Chinese New Year and Fundraising Gala 2017 finally rang down the curtain at Centre Socioculturel, Lile-Bizard City at Feb 4th, 2017 night in West Island, this event organized by Art Saving Life Foundation and Menghua Foundation, is to celebrate Chinese New Year 2017, enhance the multiculturalism of Canada; also bring awareness of breast cancer to community and raise fund to Art Saving Life Foundation to support Art Therapy program.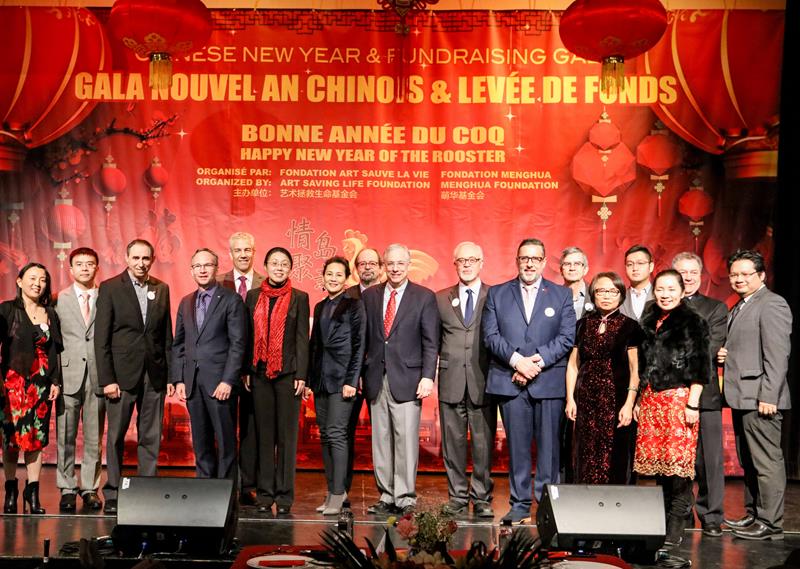 The event included dinner, artiste groups' performance and raffles from 6:00pm to 10:30pm, the families most came from Chinese-Canadian community, also many friends from different communities.
The Gala event was great success with tremendous help and collaboration such as: generous sponsors including companies, organizations and individuals; 2 hours volunteering remarkable artiste performance from over 10 different performance groups cross communities; enthusiastic congratulations and encouragement from 3 level Canadian government officials and Consulate – General of P.R. China in Montreal; outstanding effort from 60 volunteers team including organizing committee adult volunteers, young volunteers and lovely angel kids; also most important support and participating in from 350 residents in west island and Montreal.
Chinese New Year Gala VIP List
Mrs. XiaoYing Shi, Vice-General Consulate of Consulate – General of the People's Republic of China in Montreal; Mr. Liang Cai, Consulate
Mr. Francis Scarpaleggia, Member of Parliament for Lac Saint-Louis
Mr. Frank Baylis, Member of Parliament for Pierrefonds-Dollard
Mr. Carlos Leitao, Member of National Assembly, Minister of Finance
Mr. Martin Coiteux, Member of National Assemble, Minister of Municipal Affairs and Land Occupancy, Minister of Public Security, Minister responsible for the Montréal region
Mr. Geoffrey Kelley, Member of National Assembly, Minister responsible for Native Affairs
Mr. Dimitriois Beis, Mayor of Pierrefonds-Roxboro Borough; Mr. Yves Gignac, City Councilor
Mr. Normand Marinacci, Mayor of L'Île-Bizard–Sainte-Geneviève; Mr. Christian Larocque, City Councilor
Mrs. Sarah Yang, President of Montreal Yangtze Academic
Mrs. XiaoQing Li, President of Montreal Confucius School
Sponsor Thanks List
PLATINUM Sponsor 白金赞助
IGA – Famille Guimont
GOLD Sponsor 金牌赞助
Air China
(中国国际航空公司)
Caisse Desjardins
(加鼎银行)
Mercedes Benz West Island
(西岛奔驰汽车行)
Belle Ile Investissements
(丽岛投资)
SILVER Sponsor 银牌赞助
Maple Ville
(枫华源)
SCDA Enseignes
(喜达广告制作)
Yuan Lei Restaurent Gourmet
(源垒美食餐厅)
Vicky Zhang Wealth Management Inc.
(弘亮财富管理和税务规划)
Maple Vacation
(枫情假期)
苏州世觉亿尚服饰设计有限公司
Jeunesse Montreal
(婕斯蒙特利尔团队)
Équipe Carole Pinto, RE/MAX
(Carole Pinto地产经纪团队)
Volunteering Performance Group Thanks List
义演团体感谢名单
Association de Costumes Cheongsam
蒙特利尔旗袍会
Association Lingfeng Hanfu Montreal
蒙特利尔灵枫汉服社
Band Flint
燧石乐队
Collège Charlemagne
Harmonie
Charlemagne中学管弦乐团
F7 Dance Squad
姐妹花舞蹈队
Li Xiang Shi Yu
李响 施宇
Children's Choir McGill Schulich School of Music
麦吉尔大学Schulich音乐学院少年合唱团
Sheila Parkins Academy of Dance and Music
Sheila Parkins 舞蹈学校
Montreal Confucius School
蒙特利尔孔子学校
Montreal Yangtze Academy
蒙特利尔扬子教育
Lisbeth Zumba Club
Xu Zhi Violin Studio
徐智小提琴工作室
Chinese New Year Gala Organizing Committee
Art Saving Life Foundation
Menghua Foundation