It was a perfect day — thanks to all of you! We couldn't have pulled it off without working really well together. I'm so impressed at how awesome you all are. Together we make an amazing team!!! I heard some of the library staff commenting that this was the largest vernissage/art opening they have ever had. Woo Hoo!
The most brilliant moments were seeing the joy and awe on the artists faces as they viewed the artworks in addition to seeing the moved reactions of all our visitors. There was a sensitivity in the air — some semblance of safety to make the brave sharing of personal artworks possible. I heard little threads of conversation throughout the day and it sounds like it was an exhibit enjoyed by all! Some of the artworks struck a cord for sure and I saw a few in the crowd crying during my little short speech. I think this community space could hold that too — the more heartfelt emotions.I hope the artists felt embraced all in all!
Kate Laux
MA, Art Therapist at Cedars CanSupport
When we brought out this art exhibition idea two year ago, cannot expect the dream came to true in such short time, so please always keep dream and take action even you thought it is impossible. This is not regular art exhibition, it is testimony of fair, brave and love. it seems impossible that you will become an artist after went through death scare and painful surgery, never finished treatment and whole life caring, but everyone will believe you are truly artist. We are so proud of you all, beautiful ladies !!!
Also many thanks YanYee and Darka – taking every beautiful moments for us!
Janet Liu
Art Saving Life Foundation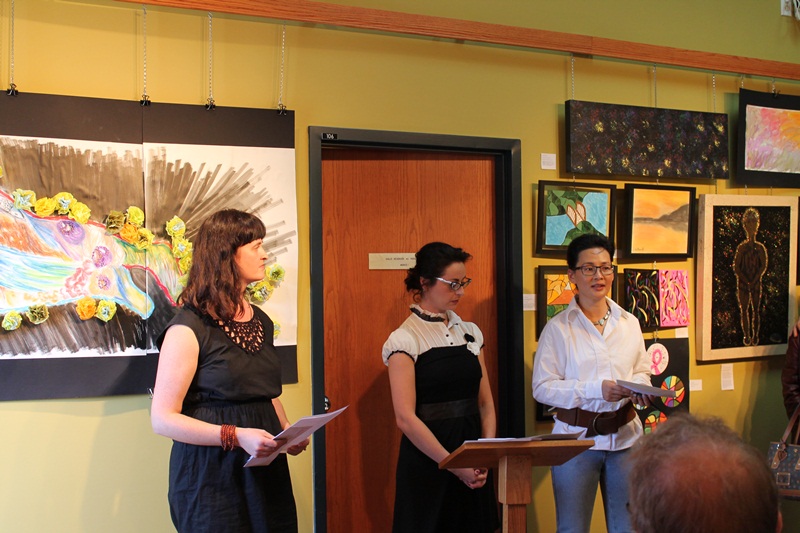 Announcement during Art Exhibition opening, Art Saving Life Foundation made donation to support art therapy research and open studio at Cedars CanSupport  (MUHC).