JOIN OUR ZUMBA FOR HOPE XMAS PARTY 2014 !!!
Proceeds From Zumba For Hope Party Charity Events Benefit Art Saving Life Foundation.
Every 23 seconds, somewhere in the world, someone is diagnosed with breast cancer. Every 69 seconds, somewhere in the world, someone dies from breast cancer. Let's take action NOW !
We are planning to have Zumba for Hope Breast Cancer Fundraising Xmas Party at Dec 6th, 2014. The zumba party will be led by our super star – Lisbeth Mora, Geovanny and many special guests. We will invite Breast Cancer survivors and their family, friends and any interested people joining to this most exciting and popular party, dancing with Latin happy music.
There are surprising performance and many raffle gifts ! So much fun !
The purpose of this Zumba for Hope Breast Cancer Fundraising Party is to bring awareness of breast cancer, promote Zumba dancing to breast cancer survivor which extremely increasing flexibility, strength and balance, reducing stress, burning fat, maintaining healthy weight, and building confidence.
The Zumba for Hope Breast Cancer Fundraising Party also is the fundraising activity to raise fund to support art therapy research and free foundation charitable programs.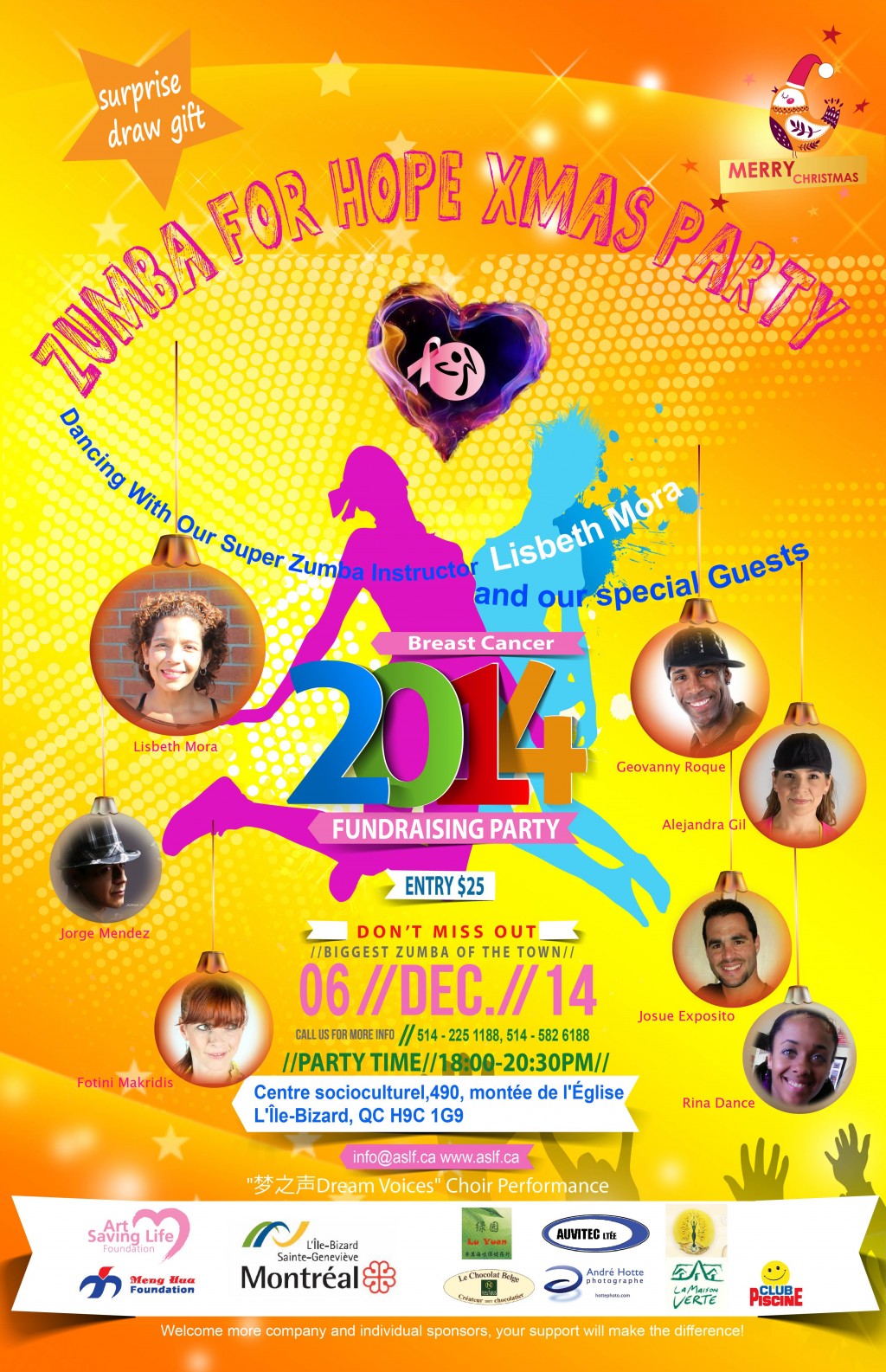 Time:
Saturday Dec 6th, 2014 (18:00PM-20:30PM)
Location:
Centre Socioculturel, 490 Montee de l'Eglise, L'ile-Bizard, QC H9C 1G9
The space honor sponsored by Lile-Bizard City
Bus direction
Bus stop: 207 Cherrier / De L'Eglise
Ticket:
$25 at door
$20 in advance
t: 514-225 1188 514-582 6188
e: info@aslf.ca
w: www.aslf.ca
The Art Saving Life Foundation (ASLF) is a registered volunteer-based charitable organization, the mission of which is to assist in the recovery of breast cancer survivors by providing art therapy programs and seminars on achieving self-balance and funding qualified organizations to conduct research.
Established in 2008 by a dedicated group of volunteers, ASLF works collaboratively to fund and support:
•Art therapy related research
•Art therapy program and seminar
•Art exhibitions and related culture, art exchange
•A positive health lifestyle for breast cancer survivor, promoting Our Zumba Program as a part of the Therapy.
We believe that POSITIVE THINKING IS A KEY WHICH UNLOCKS THE SECRET OF A HAPPY AND FULFILLING LIFE.
We donated and setup "Art Saving Life Foundation Graduate Scholarship" at Concordia University to award the excellent student in Art Therapy master programs.
We also donated to Ville Marie Oncology Foundation to support breast cancer research and recovery program.
Special thanks special guest in our Zumba for Hope Party 2014, our loyal volunteers Lisbeth Mora, Geovanny Roque and many special guests !!!!!
Special thanks below sponsor's great support to our Zumba for Hope Xmas Party 2014!
Lile-Bizard City
AUVITEC LTEE
LuYuen Nutrition
Le Chocolat Belge
Massothérapie Line Déziel
Andre Hotte Photographe
La Maison Verte
Club Piscine
Tender Touch Art
More company and individual sponsors are welcome for this event. For further information please contact info@aslf.ca.
We cannot success without your support and generosity.
Your support and show up will make the difference!
Organizers
Art Saving Life Foundation
MengHua Foundation